Experience the ultimate adventure in Dubai with the Premium Red Dunes Safari, Camel Ride, BBQ & Al Marmoom Oasis.
This thrilling tour invites travelers to explore the stunning landscapes and cultural wonders of Dubai. Discover the mesmerizing red dunes, enjoy the Al Marmoom Reserve, indulge in a delicious Emirati barbecue dinner, and witness a captivating cultural show.
With complimentary pick-up services and important information about restrictions and safety precautions, this unforgettable journey promises an exhilarating and seamless experience.
Key Takeaways
Experience the beauty of the red dunes outside of Dubai
Enjoy a Bedouin camp experience with live cultural shows
Indulge in a delicious Emirati barbecue dinner
Explore the Al Marmoom Reserve and witness falcons, fire, and belly dancing.
The Majestic Red Dunes: An Unforgettable Adventure
The tour offers an unforgettable adventure through the majestic red dunes outside of Dubai.
As you embark on this thrilling journey, be prepared to capture stunning red dunes photography that will leave you in awe of nature's beauty.
Feel the rush of adrenaline as you conquer the towering dunes on a sandboarding adventure, gliding down the slopes with exhilaration.
The soft, warm sand beneath your feet adds to the surreal experience of being in the vast desert.
Whether you're a beginner or an experienced sandboarder, the red dunes provide the perfect backdrop for an unforgettable sandboarding session.
Discover the Hidden Gems of Al Marmoom Oasis
Has anyone ever explored the hidden gems of Al Marmoom Oasis? Nestled in the heart of Dubai, this enchanting oasis is a haven of natural beauty and cultural treasures waiting to be discovered.
Al Marmoom Oasis isn't only a sanctuary for wildlife conservation, but it also boasts a rich heritage of traditional Emirati crafts and arts.
As you wander through the oasis, you'll be captivated by the diverse and abundant wildlife that call this place home. From graceful gazelles to colorful migratory birds, the oasis is teeming with life. Wildlife conservation efforts have ensured the preservation of these precious species, making it a truly remarkable experience for nature enthusiasts.
Along With its natural wonders, Al Marmoom Oasis is a testament to the rich cultural heritage of the Emirati people. Enjoy the traditional Emirati crafts and arts that are showcased here. From intricate pottery to exquisite hand-woven textiles, you'll have the opportunity to witness the craftsmanship and skill that has been passed down through generations.
Unwind in a Bedouin Camp: Immerse Yourself in Emirati Culture
How can one enjoy Emirati culture by unwinding in a Bedouin camp? Well, in a Bedouin camp, you can experience the true essence of Emirati hospitality and get a glimpse into the rich traditions of the Emirates.
Here are five things you can expect to find in a Bedouin camp:
Traditional music and dance: Enjoy the rhythmic beats and graceful movements of traditional Emirati music and dance. Let the music transport you to another time and place.

Authentic Emirati cuisine: Indulge in a delicious feast of Emirati barbecue dinner, cooked to perfection by skilled chefs. Discover the unique flavors and spices that make Emirati cuisine so special.

Camel rides: Take a leisurely ride on a camel and experience the desert from a different perspective. Feel the gentle sway as the camel takes you on a journey through the golden dunes.

Henna painting: Adorn your hands with intricate henna designs, a traditional form of body art in the Middle East. Let the skilled henna artists create beautiful patterns that reflect the beauty of Emirati culture.

Star gazing: As the sun sets and the night sky unfolds, marvel at the beauty of the stars. Lay back and relax, while the Bedouin guides share their knowledge of the constellations and the stories behind them.
In a Bedouin camp, you can truly enjoy Emirati culture and create memories that will last a lifetime.
Indulge in a Delectable BBQ Dinner Under the Arabian Sky
Guests can savor a mouthwatering BBQ dinner while enjoying the breathtaking Arabian sky. Cooking a delicious BBQ dinner under the Arabian sky requires some tips and techniques.
Emirati cuisine holds great significance in Bedouin culture, with its rich history and traditional flavors. The Bedouins have mastered the art of cooking over open flames, infusing their dishes with aromatic spices and herbs.
To create a delectable BBQ dinner, it's essential to marinate the meat in a blend of local spices, such as cumin, coriander, and saffron. Grilling the meat slowly over charcoal imparts a smoky flavor and tender texture.
Accompany the BBQ with traditional side dishes like hummus, tabbouleh, and freshly baked bread. As the sun sets over the Arabian desert, relish the flavors of Emirati cuisine and experience the cultural significance of dining under the Arabian sky.
Experience the Thrill of a Camel Ride in the Desert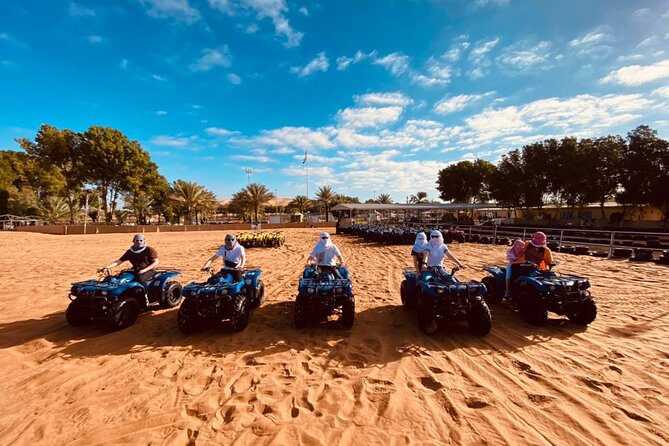 Visitors can embark on a thrilling adventure by taking a one-hour camel ride through the picturesque desert landscape. This camel ride adventure offers a unique way to explore the beauty of the desert and experience the serenity of the surroundings.
Here are five highlights of this desert safari experience:
Breathtaking views of the red dunes outside of Dubai.
A chance to explore the Al Marmoom Reserve, home to a diverse array of flora and fauna.
An opportunity to enjoy a Bedouin camp experience, immersing oneself in the rich culture and traditions of the region.
Indulging in a delicious Emirati barbecue dinner, savoring the flavors of authentic local cuisine.
Witnessing a live cultural show with falcons, fire, and belly dancing, adding an extra touch of excitement to the evening.
This camel ride adventure promises an unforgettable journey through the desert, offering a unique perspective of this mesmerizing landscape.
Witness the Spectacular Show: Falcons, Fire, and Belly Dancing
She can't wait to witness the spectacular show of falcons, fire, and belly dancing at the desert safari.
In Emirati culture, falconry holds great importance. Falcons are highly revered birds and have been traditionally used for hunting in the desert. The skill and art of falconry have been passed down through generations, symbolizing strength, agility, and the connection between man and nature.
As for belly dancing, it has a rich history and significance in the Middle East. Originating in ancient Mesopotamia, belly dancing was traditionally performed during celebrations and festivities. It's a mesmerizing dance form that involves intricate hip movements, graceful arm gestures, and vibrant costumes. Today, belly dancing has become a popular cultural performance, captivating audiences with its rhythm and beauty.
At the desert safari, she'll have the opportunity to witness these captivating displays of falcons and belly dancing, immersing herself in the rich traditions and culture of the region.
Essential Information for an Incredible Dubai Desert Experience
To ensure an incredible Dubai desert experience, it's essential to familiarize oneself with the pick-up and drop-off locations as well as the important information provided by the tour organizers. Here are some must-have desert essentials to keep in mind for Dubai desert safety:
Wear casual, loose-fitting clothing in the summer and bring a jacket for the winter.
Be aware of any restrictions in Bedouin entertainments during Ramadan or special Islamic days.
It's recommended not to do henna if you have skin sensitivity.
All desert safari guides/drivers are well trained and licensed.
Land Cruiser vehicles are fully insured and equipped with safety facilities.
By knowing these essential details, visitors can have a safe and enjoyable time exploring the red dunes outside of Dubai, experiencing the Al Marmoom Reserve, indulging in a delicious Emirati barbecue dinner, and witnessing a live cultural show with falcons, fire, and belly dancing.
Frequently Asked Questions
What Is the Maximum Number of Travelers Allowed on the Dubai: Premium Red Dunes Safari Tour?
The maximum group size for the Dubai: Premium Red Dunes Safari tour is 100 travelers. However, infants below 3 years old are not allowed during shared dune bashing, but a private option is available.
Are Infants Allowed to Participate in the Shared Dune Bashing Activity?
Infants are not allowed to participate in the shared dune bashing activity due to safety concerns. However, there is a private option available for them to enjoy the experience.
Is Henna Available During the Bedouin Camp Experience?
Yes, henna application is available during the Bedouin camp experience. Guests can adorn their hands with traditional henna designs, adding a touch of cultural beauty to their desert adventure.
Is Quad Biking Covered by the Company's Insurance?
Yes, quad biking is not covered by the company's insurance. However, it is a thrilling activity that offers the benefits of adventure, exploration, and an adrenaline rush. Safety precautions should be followed while enjoying quad biking.
What Is the Cancellation Policy for the Dubai: Premium Red Dunes Safari Tour?
The cancellation policy for the Dubai: Premium Red Dunes Safari tour includes a full refund if canceled 24 hours in advance. No refund is given for cancellation less than 24 hours before the start time.
The Sum Up
To sum it up, the Dubai: Premium Red Dunes Safari, Camel Ride, BBQ & Al Marmoom Oasis offers an exhilarating adventure that combines stunning landscapes, cultural experiences, and thrilling activities. From exploring the mesmerizing red dunes to indulging in a delicious Emirati barbecue dinner, this tour provides an unforgettable journey in Dubai. With its captivating activities and breathtaking scenery, this experience is a must-try for those seeking an immersive and unforgettable desert adventure.
Other Great Tours & Activities
If you're looking for more exciting experiences in Dubai, there are several other tour options available that are worth considering. Here are a few of them:
These are just a few examples of the exciting tours and activities available in Dubai. Whether you're interested in cultural experiences, adrenaline-pumping adventures, or exploring iconic landmarks, there's something for everyone to enjoy in this vibrant city.