The Dubai City Tour With Guide offers visitors an immersive experience of the vibrant city. With a professional English-speaking guide and an air-conditioned vehicle, guests can comfortably explore both the historical and modern attractions.
From iconic landmarks like the Burj Al Arab and Burj Khalifa to traditional experiences like an abra boat ride across Dubai Creek, this tour provides a complete perspective of Dubai's rich culture and stunning architecture.
Hotel pickup and drop-off ensure a hassle-free experience, making it an ideal choice for first-time visitors.
Key Takeaways
The Dubai City Tour covers both old and modern Dubai, providing a complete experience for first-time visitors.
The tour includes a professional English-speaking guide who provides informative commentary throughout the tour.
The tour includes visits to popular attractions such as Burj Al Arab, Burj Khalifa, Dubai Frame, Ski Dubai, and Ain Dubai – The Giant Wheels.
Guests have the opportunity to explore traditional areas such as Al Bastakiya, Heritage Village, and Souk Al Kabeer, as well as take an abra boat ride across Dubai Creek to visit Deira's souks.
Exploring the Modern Marvels of Dubai
The tour provides visitors with an opportunity to explore the modern marvels of Dubai, including iconic landmarks such as Burj Al Arab, Burj Khalifa, Dubai Frame, Ski Dubai, and Ain Dubai – The Giant Wheels.
Dubai is renowned for its architectural wonders, with these landmarks showcasing the city's innovative and ambitious designs. The Burj Al Arab, a sail-shaped hotel, stands as a symbol of luxury and elegance. The Burj Khalifa, the tallest building in the world, offers breathtaking views from its observation deck. The Dubai Frame provides a unique perspective on the city's past and future. Ski Dubai, an indoor ski resort, offers a thrilling escape from the desert heat. And Ain Dubai – The Giant Wheels, set to be the tallest observation wheel in the world, promises stunning vistas of Dubai's skyline.
Beyond its architectural marvels, modern Dubai also boasts a vibrant nightlife, with a stack of clubs, bars, and entertainment venues. Visitors can experience the energetic atmosphere and enjoy world-class performances in this dynamic city.
Discovering the Rich History of Old Dubai
Visitors can enjoy the fascinating history of Old Dubai, uncovering its rich cultural heritage through explorations of the ancient souks, traditional neighborhoods, and historic landmarks.
Unearthing ancient treasures and uncovering hidden gems, this tour offers a comprehensive experience of the city's past. Starting with a visit to Dubai Marina and Jumeirah Beach Residence, you will journey to Palm Jumeirah island and marvel at the iconic Burj Al Arab hotel.
The tour continues with a visit to the Blue Mosque and Dubai Museum, providing insights into the city's history and architecture. Exploring the traditional areas of Al Bastakiya, Heritage Village, and Souk Al Kabeer, visitors will have the opportunity to enjoy the vibrant culture and bustling atmosphere of these historic sites.
A highlight of the tour includes an abra boat ride across Dubai Creek to visit Deira's souks, including the renowned Gold Souk and Spice Souk. With knowledgeable guides providing informative commentary, visitors will gain a deeper understanding of Old Dubai's captivating history and cultural significance.
Unveiling the Iconic Landmarks of the City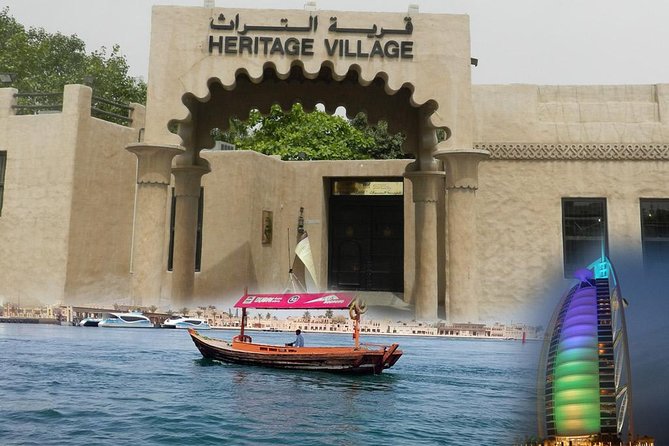 Dubai's skyline showcases iconic landmarks that captivate visitors from around the world. The city is known for its architectural wonders that blend modernity and luxury seamlessly. Uncovering these landmarks is an essential part of capturing the essence of Dubai.
Here are four key architectural marvels that leave visitors in awe:
Burj Khalifa: The tallest building in the world offers breathtaking views of the city from its observation decks.

Burj Al Arab: This iconic sail-shaped hotel is a symbol of luxury and opulence, renowned for its extravagant design and world-class amenities.

Dubai Frame: An impressive structure that offers a unique perspective of the city, with panoramic views of both old and new Dubai.

Palm Jumeirah: A man-made island in the shape of a palm tree, home to luxurious hotels, upscale residences, and stunning beachfront properties.
These architectural wonders not only showcase Dubai's ambition and innovation but also highlight its status as a global destination for luxury and extravagance.
Immersing in Traditional Culture and Heritage
While exploring Dubai, visitors can enjoy the traditional culture and heritage by visiting the Al Bastakiya, Heritage Village, and Souk Al Kabeer. These attractions offer a glimpse into the rich history and traditions of the Emirati people.
Al Bastakiya, also known as the Al Fahidi Historic District, is a well-preserved neighborhood that showcases traditional Emirati architecture and features various art galleries and cafes.
Heritage Village provides an authentic experience by showcasing traditional crafts and markets in Dubai, allowing visitors to witness artisans practicing age-old techniques.
Souk Al Kabeer, also known as the Grand Souk, is a bustling market where visitors can explore and purchase traditional Emirati handicrafts, textiles, spices, and more.
Plus, visitors can indulge in Emirati cuisine and culinary traditions, experiencing the flavors and spices that are unique to the region.
Experiencing the Best of Dubai's Old and New Sights
She takes travelers on a comprehensive city tour, ensuring they experience the best of Dubai's old and new sights. With her expertise and knowledge, she guides visitors through the vibrant skyline, capturing the essence of this dynamic city.
The tour begins with a visit to Dubai Marina and Jumeirah Beach Residence, offering breathtaking views of the modern architecture and pristine beaches. As the tour continues, travelers have the opportunity to experience the flavors of Dubai's souks, exploring the bustling markets filled with spices, gold, and traditional crafts.
Along the way, stops at iconic landmarks such as the Burj Khalifa and Burj Al Arab provide a glimpse into the city's modernity and opulence. From the historical sites of Al Bastakiya to the traditional abra boat ride across Dubai Creek, this tour ensures an immersive and unforgettable experience of Dubai's old and new attractions.
Frequently Asked Questions
How Long Does the Dubai City Tour With Guide Usually Last?
The Dubai city tour with a guide typically lasts for a few hours, allowing visitors to explore both old and new Dubai. The best time to take the tour is in the morning to avoid the heat.
Can I Bring My Own Food and Drinks During the Tour?
Yes, guests are allowed to bring their own food and drinks during the tour. However, it is important to note that there may be certain restrictions or limitations imposed by the tour operator.
Is There a Minimum Age Requirement for This Tour?
There is no minimum age requirement for this tour. It is child-friendly and includes attractions like Dubai Frame and Ski Dubai. Guests can enjoy a comprehensive experience of both old and modern Dubai.
Are There Any Additional Fees or Charges Not Mentioned in the Tour Inclusions?
Additional fees or charges may apply for optional activities, meals, or souvenirs not included in the tour price. Guests are advised to bring comfortable shoes, sunscreen, and a bottle of water for the tour.
What Is the Maximum Number of Guests Allowed in One Tour Group?
The maximum group size for the tour is not specified. It is recommended to contact the tour provider for information regarding group size restrictions and any limitations that may apply.
The Sum Up
Before conclusion, let's explore some other great tours and activities in Dubai that you can consider for your visit. Here are a few options:
These are just a few examples of the many exciting tours and activities available in Dubai. Whether you're looking for adventure, relaxation, or cultural experiences, Dubai has something to offer for everyone.
Don't miss out on exploring all the wonders this city has to offer!