Flyboarding in Dubai has become a popular water sport for adventure enthusiasts. Located at DUKES THE PALM Royal Hideaway, participants can fly up to 45 feet in the air using high-speed water jets.
With the stunning coast of Dubai as a backdrop, this activity offers an adrenaline rush like no other. Professional instructors provide comprehensive lessons tailored to individual skill levels, allowing participants to learn new tricks and experience the freedom of soaring through the air.
Please note, this activity is not recommended for individuals with serious medical conditions or back problems.
Key Takeaways
Flyboarding is a popular water sport in Dubai.
Participants can fly up to 45 feet in the air using high-speed water jets.
Participants receive a beginner's lesson and around 10 minutes of instruction from a professional.
The activity is weather-dependent and may be canceled due to poor weather.
Overview of Flyboarding in Dubai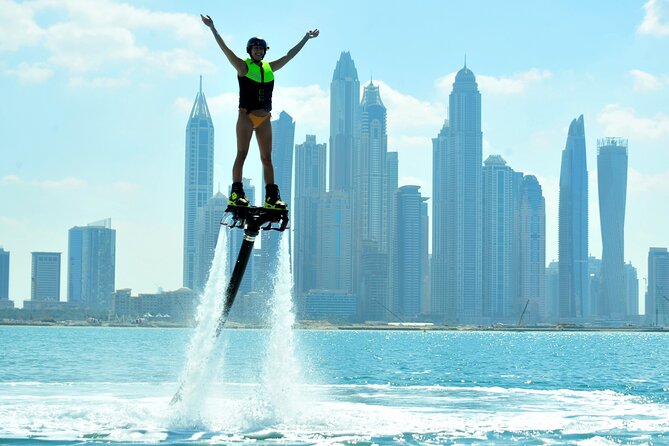 Flyboarding in Dubai offers participants an exhilarating water sport experience where they can fly up to 45 feet in the air using high-speed water jets.
To engage in this thrilling activity, you will need flyboarding equipment, which includes a flyboard, boots, and a hose that connects to a personal watercraft.
Safety precautions for flyboarding are of utmost importance. Participants are required to wear a life jacket and a helmet to ensure their safety throughout the experience. Plus, it's essential to follow the instructions provided by the professional instructors to minimize the risk of accidents.
Before taking flight, you will receive a beginner's lesson to familiarize themselves with the equipment and techniques.
With the right equipment and safety precautions in place, participants can enjoy the adrenaline rush of flyboarding in Dubai while feeling secure.
Location and Setting for Flyboarding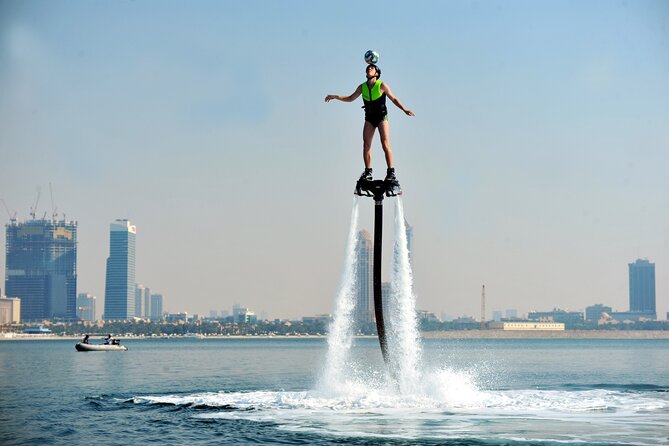 Located at DUKES THE PALM Royal Hideaway in Dubai, participants can experience the thrill of flyboarding while enjoying the breathtaking coastal backdrop. Flyboarding in Dubai offers an exhilarating experience that combines the adrenaline of flying with the beauty of the Arabian Gulf.
Here are some key details about flyboarding in Dubai:
Flyboarding safety measures:

Participants are provided with safety equipment, including a helmet and life jacket.
Instructors are highly trained and experienced in guiding participants safely through the activity.
Safety briefings are conducted before the session to ensure participants are aware of all safety protocols.

Best time for flyboarding in Dubai:

The activity can be enjoyed year-round due to Dubai's warm climate.
The months of October to May offer ideal weather conditions with pleasant temperatures and calm waters.
Early morning or late afternoon sessions are recommended to avoid the heat of the day.
Flyboarding in Dubai is a thrilling water sport that guarantees an unforgettable experience in a stunning setting. With proper safety measures in place and the right time chosen for the activity, participants can have a safe and enjoyable flyboarding adventure.
Flyboarding Experience and Instruction
Participants will receive approximately 10 minutes of instruction from a professional before experiencing the thrill of flyboarding. This introductory lesson is crucial for participants to learn the necessary flyboarding techniques and safety precautions.
The professional instructors will guide the participants through the basics of operating the flyboard and will ensure that they're comfortable and confident before taking off. Safety is a top priority, and you will be briefed on how to properly use the equipment and the importance of following all safety guidelines.
They'll also learn about the different maneuvers they can perform, such as spinning and diving like a dolphin. By the end of the instruction, you will have the knowledge and skills to fully enjoy their flyboarding experience while prioritizing their safety.
Important Information for Participants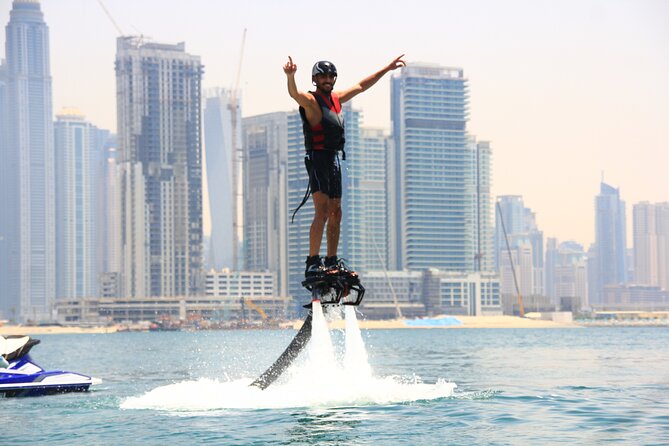 In order to ensure a safe and enjoyable experience, it's essential for participants to familiarize themselves with the important information and follow all guidelines.
Here are some safety precautions and information about flyboarding equipment that participants should be aware of:
Safety Precautions:

Participants must wear a life jacket at all times during the activity.
It's important to listen carefully to the instructor's instructions and follow them accordingly.
Participants should avoid performing any risky maneuvers without proper training.

Flyboarding Equipment:

The flyboard is attached to a jet ski, which provides the necessary propulsion for flight.
The flyboard itself consists of bindings for the feet and a board with water jets underneath.
The equipment is designed to be sturdy and durable, ensuring a safe and stable flight experience.
Cancellation Policy for Flyboarding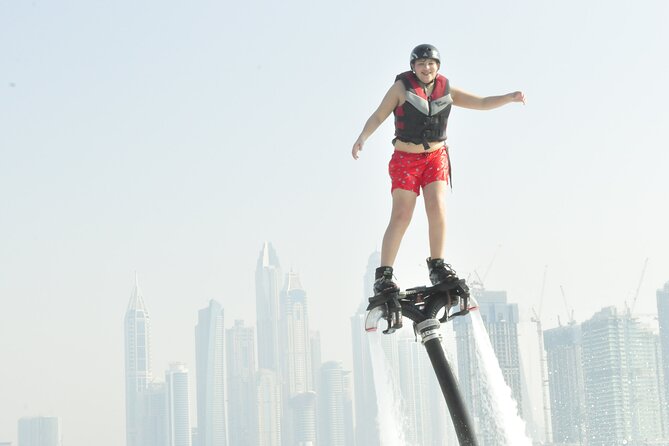 A full refund will be given for cancellations made up to 24 hours in advance, but any cancellations made less than 24 hours before the start time won't be refunded. This is the refund policy for flyboarding in Dubai.
It's important for participants to be aware of this policy when booking their experience.
Plus, it's crucial to note that the activity is weather-dependent. In the event of poor weather conditions, the experience may be cancelled for safety reasons. Participants should check the cancellation policy for more details regarding weather-related cancellations.
It's recommended to plan accordingly and monitor weather updates before the scheduled flyboarding session.
Traveler Reviews and Feedback on Flyboarding Experience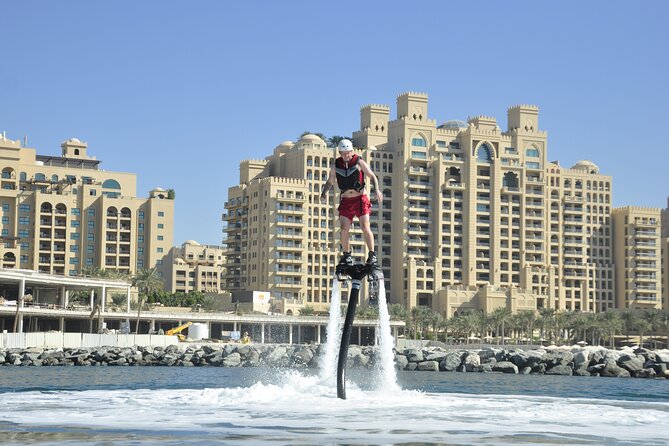 Receiving rave reviews and positive feedback, travelers are thoroughly enjoying their flyboarding experience in Dubai. Here are three reasons why this activity is gaining popularity:
Flyboarding safety precautions: Before taking off, participants are provided with a beginner's lesson from a professional instructor. This ensures that they're equipped with the necessary knowledge and skills to fly safely. Instructors also manage the power of the water jets according to each participant's skill level, further enhancing their safety.

Flyboarding equipment and gear: Participants are provided with all the necessary equipment and gear, including a flyboard, helmet, and life jacket. These ensure that they're protected and can fully enjoy the experience without any concerns about their safety.

Positive traveler reviews and feedback: With an overall rating of 5 stars and a total review count of 445, the flyboarding experience in Dubai has received glowing reviews from previous participants. Travelers have praised the quick instruction, great communication from the company, and the overall enjoyment they experienced during the activity.
These factors contribute to the growing popularity and satisfaction of travelers who choose to indulge in the exhilarating flyboarding experience in Dubai.
Frequently Asked Questions
What Is the Minimum Age Requirement to Participate in Flyboarding in Dubai?
The minimum age requirement to participate in flyboarding in Dubai is not specified. However, safety precautions are taken to ensure the well-being of participants, such as providing instruction and managing power according to skill level.
Are There Any Weight Restrictions for Flyboarding in Dubai?
Weight limits and safety precautions are taken into consideration for flyboarding in Dubai. Participants must meet the weight requirements set by the activity organizers. Safety training and equipment rental are provided to ensure a secure experience.
Can Participants Bring Their Own Equipment for Flyboarding in Dubai?
Participants cannot bring their own equipment for flyboarding in Dubai. Safety measures require the use of approved gear provided by the activity organizers. This ensures that all participants have the necessary equipment for a safe and enjoyable experience.
Is There a Maximum Number of Participants Allowed per Session?
Yes, there is a maximum number of participants allowed per session. The session duration is around 10 minutes, during which participants receive instruction and have the opportunity to fly using the flyboard.
Are There Any Discounts or Special Offers Available for Flyboarding in Dubai?
Discount options and special offers for flyboarding in Dubai are available. To find the best time to flyboard, it is recommended to check the website or contact Hydro Water Sports directly for more information.
The Sum Up
Other Great Tours & Activities
Looking for more thrilling adventures and exciting experiences in Dubai? Look no further! Here are some other amazing tours and activities that you can enjoy during your trip:
XLine Dubai Marina: XLine Dubai Marina offers an adrenaline-pumping zip-lining experience like no other. Soar through the sky and take in breathtaking views of Dubai Marina as you zip across the city's iconic skyline. This heart-pounding adventure is a must-try for thrill-seekers.

Aquaventure Water Park at Atlantis Hotel: Aquaventure Water Park is the perfect destination for water lovers. Dive into a world of excitement with thrilling water slides, wave pools, and a lazy river. This family-friendly attraction promises a day of fun and adventure for everyone.

Museum of the Future: Enjoy the world of innovation and technology at the Museum of the Future. Explore interactive exhibits and futuristic displays that showcase groundbreaking ideas and inventions. This unique museum is a must-visit for those interested in the future of science and technology.

1-Hour Jet Ski Tour: Get your adrenaline pumping with a thrilling 1-Hour Jet Ski Tour in Dubai. Speed through the crystal-clear waters of the Arabian Gulf and enjoy breathtaking views of iconic landmarks such as the Burj Al Arab and Atlantis Hotel. This high-speed adventure is sure to leave you with lasting memories.

Desert Safari with BBQ Dinner: Experience the beauty of the desert with a Desert Safari in Dubai. Embark on a thrilling dune bashing ride, try your hand at sandboarding, enjoy a camel ride, and indulge in a delicious BBQ dinner under the starry sky. This cultural experience offers a glimpse into the traditional Bedouin way of life.
These are just a few of the many incredible tours and activities available in Dubai. Whether you're seeking adrenaline-fueled adventures or cultural experiences, Dubai has something to offer for everyone. So don't miss out on these exciting opportunities to make your trip unforgettable.