The Premium Red Dune Safari in Dubai offers a thrilling adventure through the stunning red dunes. With a professional driver, visitors can experience the heart-pounding activity of dune bashing.
At the Bedouin camp, guests can enjoy camel riding, sandboarding, henna painting, and a mesmerizing belly dancing show. A sumptuous barbecue buffet dinner awaits, with vegetarian options available.
With glowing customer reviews and a highly recommended guide, this safari promises an unforgettable and immersive experience in the Dubai desert.
Key Takeaways
The Premium Red Dune Safari includes activities such as dune bashing, camel riding, sandboarding, henna painting, shisha, and a belly dancing show.
Pickup from any hotel or location within Dubai city is included, with additional costs for pickup from certain areas.
Pregnant women and guests with back or neck problems should not participate in dune bashing.
Quad biking is a separate activity and participants are responsible for their own insurance as it involves risks and the insurance provided does not cover any damages or injuries.
The Ultimate Desert Adventure: Premium Red Dune Safari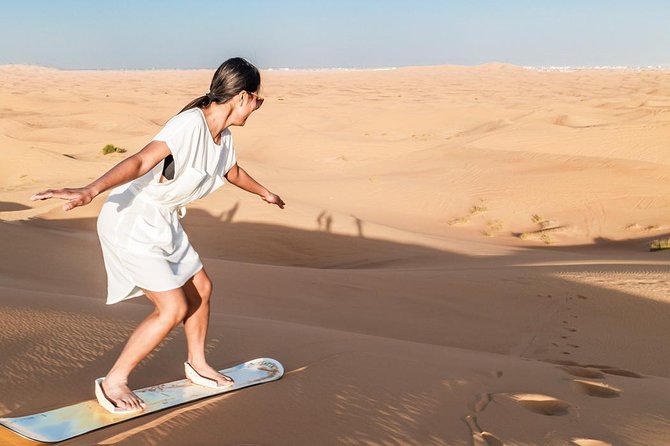 The Premium Red Dune Safari offers an exhilarating experience for adventure seekers, allowing them to explore the stunning red dunes of Dubai while enjoying activities such as dune bashing, camel riding, and sandboarding.
This safari isn't only about adrenaline-pumping adventures, but also about capturing the beauty of the desert landscape through sunset photography.
As safety is paramount, the tour ensures a secure and enjoyable desert safari experience by implementing various safety precautions. All vehicles used for dune bashing are fully insured and equipped with safety features. However, it's important to note that dune bashing isn't suitable for pregnant women or individuals with back or neck problems.
Experience the Magic: Camel Ride in the Red Dunes
Visitors can enjoy the magic of the red dunes by embarking on an unforgettable camel ride experience.
Enjoy the thrill of riding a camel through the mesmerizing landscape of the red dunes.
Take in the breathtaking views as you traverse the sandy terrain on the back of a gentle camel.
Enjoy the rich Bedouin culture and witness the traditional way of life in the desert.
The camel ride experience is just one of the many desert safari activities that await you in Dubai. From exhilarating dune bashing to sandboarding, henna painting, and a belly dancing show, there's something for everyone to enjoy.
After the camel ride, indulge in a delicious barbecue buffet dinner at the Bedouin camp, complete with vegetarian options. Don't miss out on this opportunity to create lasting memories in the enchanting red dunes of Dubai.
Indulge in Arabian Delights: BBQ Dinner in Bedouin Camp
Guests can savor the mouthwatering aromas and flavors of Arabian delights during the BBQ dinner in the Bedouin camp. The dinner offers a variety of options, including vegetarian choices, ensuring that everyone's dietary preferences are catered to. As guests indulge in the sumptuous feast, they can also enjoy the lively atmosphere and entertainment provided at the camp.
However, before the dinner, guests can embark on a thrilling camel ride, a quintessential desert experience. Safety precautions are of utmost importance during the camel ride. Professional guides are present to ensure the well-being and comfort of your. They provide instructions on how to mount and dismount the camels safely, as well as how to hold on during the ride.
Thrilling Sand Activities: Sandboarding and Dune Bashing
She loves the adrenaline rush of sandboarding and dune bashing. It's the thrill of gliding down the steep sand dunes and racing across the desert that gets her heart pumping. But amidst all the excitement, safety precautions should never be ignored.
Whether you're a seasoned adventurer or a first-time sandboarder, here are some essential safety tips to keep in mind:
Always wear protective gear, including a helmet and knee pads.
Check the condition of your equipment before starting your sandboarding or quad biking experience.
Stay within designated areas and follow the instructions of experienced guides.
Quad biking, another popular activity in the desert, offers a unique way to explore the vast sandy landscape. However, it's important to remember that quad bike activities can be risky and may result in serious injuries. It's advisable to have international travel insurance and understand that insurance doesn't cover any damage, injuries, or lost items during quad biking.
Unforgettable Memories: Entertainment and Cultural Highlights
The tour guide provided an unforgettable experience with a combination of entertaining performances and cultural highlights.
One of the highlights of the tour was the mesmerizing belly dancing performance. The skilled dancers captivated the audience with their graceful movements and vibrant costumes. Guests were enthralled as they watched the dancers showcase their talent and skill.
Another cultural highlight of the tour was the henna painting experience. Guests had the opportunity to have intricate henna designs painted on their hands and feet, a traditional art form that's deeply rooted in Middle Eastern culture. The henna artists created beautiful and intricate designs, allowing guests to enjoy the rich traditions of the region.
These cultural highlights added depth and authenticity to the overall experience, leaving guests with lasting memories of their time in Dubai.
Frequently Asked Questions
What Is the Cost of the Premium Red Dune Safari With Camel Ride and BBQ Dinner in Bedouin Camp?
The cost of the premium red dune safari with camel ride and BBQ dinner in a Bedouin camp is competitive compared to similar desert activities. It offers an unforgettable experience and a variety of alternative desert activities.
Is Transportation Included in the Tour Package?
Yes, transportation is included in the tour package. Guests will be picked up from their hotel or a designated location within Dubai city. Additional costs may apply for certain areas.
Are There Vegetarian Options Available for the BBQ Dinner?
Yes, there are vegetarian options available for the BBQ dinner. The tour provides suitable alternatives for non-vegetarians as well. Guests can enjoy a variety of food options during their premium red dune safari experience.
Are Pregnant Women Allowed to Participate in the Dune Bashing Activity?
Pregnant women should not participate in the dune bashing activity due to pregnancy precautions and safety guidelines. It is important to prioritize the well-being of the mother and unborn child.
Is Quad Biking Included in the Tour Package?
Quad biking is not included in the tour package. However, guests can enjoy the thrill of dune bashing, which is a safe and exciting alternative. Plus, the camel ride provides a unique and authentic desert experience.
The Sum Up
To sum it up, the Premium Red Dune Safari with Camel Ride & BBQ Dinner in Bedouin Camp offers an exhilarating and unforgettable adventure in the Dubai desert. From heart-pounding dune bashing to camel riding, sandboarding, and cultural entertainment, this tour provides a thrilling and immersive experience for all. With glowing customer reviews and a focus on safety, this adventure is highly recommended for anyone seeking an exciting and memorable journey through the stunning red dunes of Dubai.
Other Great Tours & Activities
Looking for more thrilling experiences in Dubai? Check out these fantastic tours and activities that are sure to leave you amazed:
XLine Dubai Marina: Soar through the sky on the world's longest urban zip line and enjoy breathtaking views of Dubai Marina. This adrenaline-pumping activity is perfect for thrill-seekers looking for an exciting adventure.

Aquaventure Water Park at Atlantis Hotel: Dive into a world of water-filled fun at Aquaventure Water Park. With thrilling slides, lazy rivers, and a private beach, this water park offers a perfect day of excitement and relaxation for the whole family.

Museum of the Future Ticket in Dubai: Enjoy the future of technology and innovation at the Museum of the Future. Explore interactive exhibits, witness cutting-edge inventions, and get a glimpse of what lies ahead in this futuristic attraction.

1h Jet Ski Tour Dubai: Burj Al Arab & Atlantis: Experience the thrill of riding a jet ski as you zoom past iconic landmarks like the Burj Al Arab and Atlantis Hotel. This high-speed adventure is perfect for adrenaline junkies looking for an exhilarating way to explore Dubai's coastline.

Desert Safari with BBQ Dinner, Quad Bike, and Camel Ride Experience from Dubai: Embark on a desert safari adventure that includes dune bashing, a BBQ dinner, quad biking, and a memorable camel ride. This action-packed tour offers a perfect blend of adrenaline and cultural experiences.
These are just a few of the many incredible tours and activities available in Dubai. Whether you're seeking adventure, relaxation, or cultural immersion, there's something for everyone in this vibrant city. Explore the links and choose the activities that suit your interests for an unforgettable vacation in Dubai.