Get ready for an unforgettable adventure on the Dubai Palm Jumeirah and Palm Lagoon Guided RIB Boat Cruise 2023. This thrilling tour takes you on a cruise along the iconic Palm Jumeirah, providing breathtaking views of Dubai's landmarks including Atlantis, The Palm and the legendary Burj Al Arab.
With a knowledgeable skipper providing live commentary, you'll gain insights into the history and significance of these magnificent structures.
Choose a departure time that suits your schedule and prepare to explore the wonders of Dubai's Palm Jumeirah from the water.
Key Takeaways
View Dubai landmarks from the water, including the Palm Jumeirah, Atlantis, The Palm, and the Burj Al Arab.
Enjoy live onboard commentary during the cruise.
Multiple departure times are available for convenience.
Cancellation policy allows for a full refund if canceled up to 24 hours in advance, but no refund for cancellations less than 24 hours before start time.
The Iconic Palm Jumeirah: A Majestic Wonder on the Water

Visitors can experience the majestic wonder of Palm Jumeirah on a guided RIB boat cruise, offering breathtaking views of the iconic landmark from the water.
Dubai's Palm Jumeirah, an engineering marvel, is a man-made archipelago shaped like a palm tree, stretching into the Arabian Gulf. As guests embark on the cruise, they'll be captivated by the sheer scale and intricate design of this impressive feat of engineering.
The Palm Jumeirah is home to luxurious hotels, elegant villas, and stunning beachfront properties, making it a popular destination for travelers and residents alike.
The cruise also takes passengers through the tranquil Palm Lagoon, a serene escape from the bustling city. With its calm waters and serene atmosphere, the Palm Lagoon offers a peaceful retreat where visitors can relax and take in the beauty of their surroundings.
Exploring Palm Lagoon: A Scenic Adventure in Dubai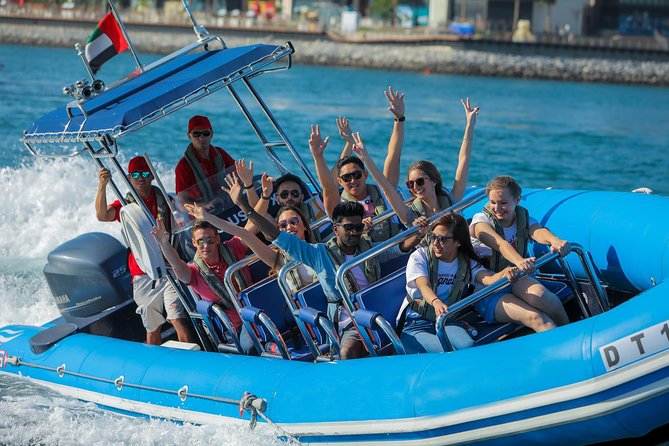 Frequently overlooked by travelers, but often praised by locals, Palm Lagoon offers a serene and picturesque adventure in Dubai. This hidden gem is a must-visit for nature enthusiasts and those seeking a break from the bustling city. Here are four reasons why Palm Lagoon should be on your itinerary:
Abundant Wildlife: As you explore the lagoon's tranquil waters, be prepared to encounter a variety of wildlife. From graceful flamingos to elegant herons, the lagoon is home to many bird species. Keep your eyes peeled for dolphins swimming alongside your boat, creating unforgettable moments.
Scenic Beauty: Palm Lagoon boasts breathtaking views of Dubai's iconic landmarks, such as the Palm Jumeirah and the Burj Al Arab. The crystal-clear waters and lush greenery surrounding the lagoon provide a stunning backdrop for unforgettable photographs.
Peaceful Atmosphere: Escape the crowds and enjoy the calm ambiance of Palm Lagoon. The absence of noise and bustling activity allows visitors to unwind and connect with nature, making it the perfect spot for relaxation.
Boat Tours: Explore the lagoon on a guided boat tour, where knowledgeable guides share interesting facts about the lagoon's ecosystem and the wildlife that calls it home. These tours offer a unique perspective and allow visitors to get up close and personal with the wonders of Palm Lagoon.
Don't miss out on this hidden gem and its incredible wildlife encounters. Palm Lagoon is a true oasis in the heart of Dubai, waiting to be discovered.
Unveiling Dubai's Landmarks: Atlantis, The Palm and Burj Al Arab

The tour guide highlights Atlantis, The Palm and Burj Al Arab as the iconic landmarks being unveiled in Dubai. These architectural marvels showcase the grandeur and opulence of Dubai's waterfront beauty.
Atlantis, The Palm is a stunning resort located on the Palm Jumeirah, a man-made island shaped like a palm tree. It boasts luxurious accommodations, a waterpark, and marine exhibits.
Burj Al Arab, on the other hand, is a sail-shaped hotel that stands tall on its own artificial island. Known as one of the most luxurious hotels in the world, it offers unparalleled views of the Arabian Gulf.
Both landmarks are a testament to Dubai's commitment to pushing the boundaries of architecture and design. Discovering these landmarks is a must for anyone visiting Dubai, as they represent the city's unique blend of innovation and extravagance.
Captivating Commentary: Dive Into Dubai's History and Culture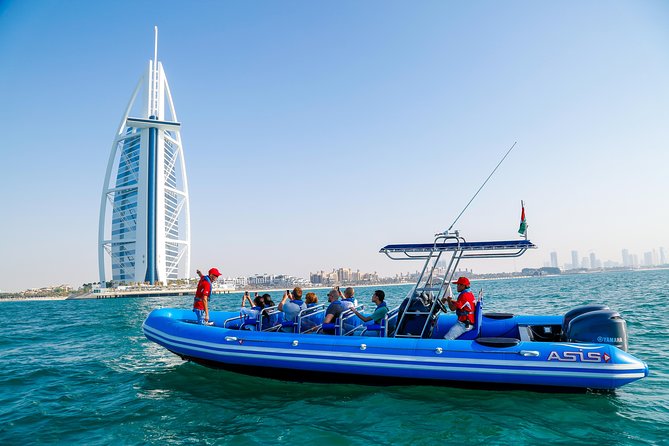 Aboard the guided boat cruise, travelers can dive into Dubai's history and culture through captivating commentary. This immersive experience allows visitors to explore the city's cultural heritage and discover the stories behind its historical landmarks.
Here's what makes this boat cruise an exciting and educational journey:
Live onboard commentary: Knowledgeable guides provide fascinating insights into Dubai's rich history and cultural traditions, offering a deeper understanding of the city's past.
View iconic landmarks: From the water, travelers can admire the Palm Jumeirah, Atlantis, The Palm, and the magnificent Burj Al Arab, gaining a unique perspective of these architectural marvels.
RIB boat adventure: Cruising on a rigid-inflatable boat adds an element of thrill and excitement to the experience, combining culture with adventure.
Multiple departure times: With various departure times available, visitors can easily fit this educational boat cruise into their schedule.
Embark on this guided boat cruise to uncover the captivating stories and heritage that shape Dubai's cultural identity, while enjoying breathtaking views of its iconic landmarks.
Flexible Departure Times: Choose the Perfect Cruise for You

Visitors can easily customize their experience by choosing from a variety of flexible departure times for the perfect cruise.
This guided RIB boat cruise along Dubai's Palm Jumeirah and Palm Lagoon offers numerous benefits for travelers. Not only can they enjoy stunning views of the Palm Jumeirah and other iconic landmarks from the water, but they can also cruise on a RIB boat with a knowledgeable skipper who provides live onboard commentary.
The importance of safety measures on the boat can't be overstated. Travelers can feel at ease knowing that their safety is a top priority, with trained staff and strict adherence to safety protocols.
Plus, the cruise offers multiple departure times, allowing visitors to choose a time that suits their schedule and preferences. Whether it's a morning adventure or a sunset cruise, the flexibility ensures that every traveler can have a memorable experience.
Unforgettable Experiences: Traveler Reviews and Testimonials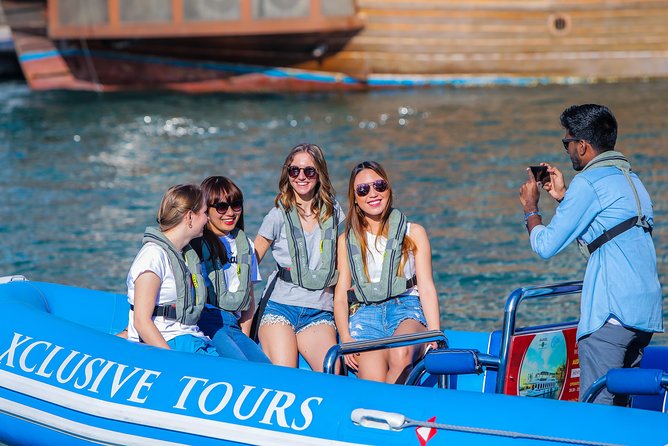 Travelers frequently share their unforgettable experiences and rave about the guided RIB boat cruise along Dubai's Palm Jumeirah and Palm Lagoon. Here are some reasons why this cruise has garnered such high traveler satisfaction:
Unique Perspectives: The cruise offers a one-of-a-kind vantage point to view the iconic Palm Jumeirah and other Dubai landmarks from the water. Travelers get to witness the grandeur of the Atlantis, The Palm and the Burj Al Arab from a different angle, creating truly memorable moments.
Expert Guidance: With a skipper on board, travelers can relax and enjoy the ride while receiving live onboard commentary about the sights and landmarks. The skipper's knowledge adds depth and insight to the experience, enhancing the overall enjoyment.
Flexibility: Multiple departure times are available, allowing travelers to choose a time that suits their schedule. This flexibility ensures that everyone can participate in this unforgettable experience.
Positive Feedback: Traveler reviews and testimonials consistently highlight the friendly staff, punctual timing, and the thrilling nature of the boat ride. The combination of speed and cruising provides an adventure-packed experience, perfect for capturing stunning photos.
The guided RIB boat cruise along Dubai's Palm Jumeirah and Palm Lagoon offers a unique and satisfying experience for travelers, allowing them to see Dubai's famous landmarks from a whole new perspective.
Frequently Asked Questions
What Is the Maximum Number of Travelers Allowed on the RIB Boat Cruise?
The maximum number of travelers allowed on the RIB boat cruise is not specified. However, there may be a minimum age requirement for participation. Please refer to the tour provider for specific details.
Is There a Minimum Age Requirement for the RIB Boat Cruise?
The minimum age requirement for the rib boat cruise is not specified. However, pregnant women and individuals with certain medical conditions may have restrictions. It is advisable to consult with the tour operator for more information.
Are Life Jackets Provided Onboard the RIB Boat?
Yes, life jackets are provided onboard the rib boat for passenger safety. As for clothing restrictions and bringing snorkeling gear, it is recommended to check with the tour operator for any specific guidelines or restrictions.
Can Passengers Bring Their Own Food and Drinks on the RIB Boat?
Passengers are allowed to bring outside food and drinks on the rib boat. However, it is recommended to check with the tour operator for any drink restrictions or catering options available onboard.
Is There a Restroom Onboard the RIB Boat?
Yes, there is a restroom onboard the RIB boat. Safety measures are in place for restroom usage to ensure the comfort and convenience of passengers during the cruise.
The Sum Up
Before conclusion, let's take a look at some other great tours and activities in Dubai that you don't want to miss!
These are just a few of the many exciting tours and activities that Dubai has to offer. Whether you're seeking adventure, culture, or relaxation, there's something for everyone to enjoy in this vibrant city.
Don't miss out on these incredible experiences during your visit to Dubai!