The Dubai Evening Desert Safari With BBQ Dinner 2023 is an exhilarating adventure that promises an unforgettable experience. Travelers can enjoy a thrilling 4WD ride over majestic sand dunes, indulge in exciting activities like dune bashing and sandboarding, and enjoy the rich desert culture.
As the sun sets, a delectable buffet barbecue dinner is served, accompanied by captivating live music and dancing. With prices starting from just €71.60, this all-inclusive package offers incredible value for money.
Don't miss out on this ultimate evening adventure in Dubai's desert.
Key Takeaways
Memorable and enjoyable experience
Affordable pricing and value for money
Opportunity to immerse in the beauty and excitement of the desert
Includes buffet barbecue dinner
The Ultimate Evening Adventure: Dubai Desert Safari
Travelers can experience the ultimate evening adventure with a Dubai Desert Safari, enjoying thrilling activities like dune bashing, sandboarding, camel rides, and more.
The safari kicks off with a 4WD ride over the dunes, providing an adrenaline-filled start to the evening.
As the sun begins to set, travelers have the perfect opportunity for sunset photography, capturing the stunning desert landscape in all its glory.
The safari also offers cultural performances, allowing visitors to enjoy the rich traditions of the region. From belly dancing to tanoura shows, these performances showcase the artistry and talent of local performers.
After an exhilarating day of adventure and cultural exploration, the safari concludes with a sumptuous BBQ dinner accompanied by lively music and dancing, providing a perfect end to the ultimate evening adventure.
Thrilling 4WD Ride Over Sand Dunes
Experiencing a thrilling 4WD ride over sand dunes provides an adrenaline rush and exhilarating start to the Dubai Desert Safari. Here are some reasons why dune bashing is a must-do activity:
Dune bashing thrills: Hold on tight as skilled drivers maneuver through the undulating dunes, creating heart-pounding moments and an unforgettable adventure.

Sunset views from the sand dunes: As the sun sets over the desert landscape, the sand dunes transform into a mesmerizing golden canvas. Capture breathtaking photos and enjoy the serene beauty of the desert at dusk.

Expert drivers: The safari is led by experienced drivers who are adept at navigating the challenging terrain. They ensure a safe yet exhilarating ride, making the experience even more enjoyable.

Unique perspective: Dune bashing allows you to see Dubai's desert from a whole new perspective. Feel the thrill of conquering the towering dunes and enjoy the vastness of the desert.
Embark on a dune bashing adventure and kickstart your Dubai Desert Safari with an adrenaline-pumping ride through the sand dunes.
Unforgettable Desert Activities and Entertainment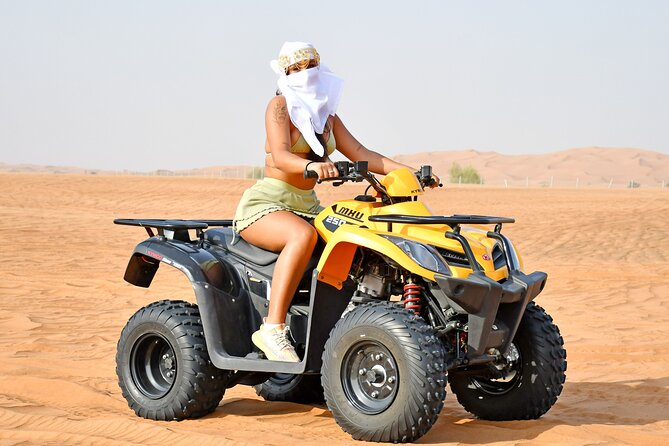 There are numerous unforgettable desert activities and entertainment options available for visitors to enjoy during their Dubai Desert Safari experience.
One of the most popular activities is camel riding, allowing visitors to experience the traditional way of traveling across the desert. Riding on the back of a camel provides a unique perspective and a sense of adventure.
Another popular activity is henna tattoo art, where skilled artists create beautiful designs on the hands and feet using natural henna paste. This ancient form of body art isn't only visually appealing but also holds cultural significance. Visitors can choose from a variety of designs and colors to adorn their skin temporarily.
These activities add an extra layer of excitement and cultural immersion to the already thrilling desert safari experience.
Indulge in a Delicious BBQ Dinner Under the Stars
Guests can savor a mouthwatering BBQ dinner under the stars, immersing themselves in the delectable flavors and enchanting ambiance of the desert evening. Here are four reasons why this experience is worth considering:
Camel Riding: Take a ride on these majestic creatures and experience the traditional mode of transportation in the desert. Feel the gentle sway as the camel carries you across the golden sand dunes.

Henna Tattoo: Adorn your hands or feet with intricate henna designs, a beautiful ancient art form. Let skilled artists create stunning patterns that will leave a lasting impression and serve as a unique souvenir of your desert adventure.

Dune Bashing: Brace yourself for an exhilarating 4WD ride over the dunes. Hold on tight as the skilled drivers navigate through the sandy terrain, providing an adrenaline-pumping experience like no other.

Value for Money: With prices starting from €71.60, this desert safari offers an affordable option for travelers. Enjoy a variety of activities, a delicious BBQ dinner, and round-trip transportation, all providing excellent value for your money.
Don't miss out on this unforgettable evening in the desert, filled with delicious food, thrilling activities, and cultural experiences like camel riding and henna tattoo art.
Incredible Value: All-Inclusive Package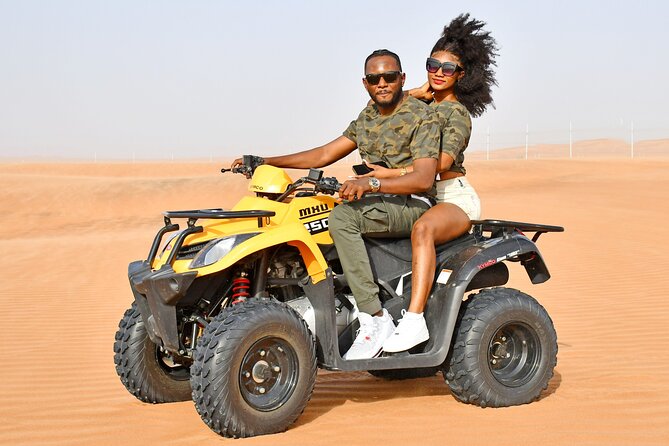 The all-inclusive package offers an incredible value, with a wide range of activities and amenities included, making it a perfect choice for budget-conscious travelers. This budget-friendly option provides affordable pricing, allowing travelers to experience the excitement of a desert excursion without breaking the bank.
The package includes a variety of activities, such as dune bashing, sandboarding, camel rides, and henna tattoo art. Plus, travelers can enjoy a delicious barbecue dinner accompanied by live music and dancing. The package also includes round-trip transportation, ensuring a hassle-free experience.
With a cancellation policy that allows for a full refund if canceled at least 24 hours in advance, travelers can book with confidence. This all-inclusive package offers great value for money and a memorable desert adventure.
Flexible Cancellation Policy for Peace of Mind
Travelers can easily change their plans without worry, as the desert safari offers a flexible cancellation policy, allowing for peace of mind. Here are four reasons why the flexible cancellation policy of the Dubai Evening Desert Safari is a great option for customer satisfaction:
Full refund: If you cancel your booking at least 24 hours in advance, you'll receive a full refund. This gives you the freedom to make changes to your plans without any financial loss.

No refund for last-minute cancellations: If you cancel less than 24 hours before the experience's start time, you won't be eligible for a refund. This policy ensures that the company can manage their resources effectively.

No changes accepted within 24 hours: Changes made to the booking less than 24 hours before the start time won't be accepted. This policy ensures that the company can provide a smooth and organized experience for all travelers.

Local time-based cancellation policy: The cancellation policy is based on the experience's local time, allowing for clarity and consistency across different time zones. This ensures that all travelers are treated fairly and equitably.
With this flexible cancellation policy, travelers can book the Dubai Evening Desert Safari with confidence, knowing that they've the option to change their plans if needed, while still enjoying an unforgettable desert experience.
Real Traveler Reviews: A 5-Star Experience
Visitors can browse through an extensive collection of authentic and detailed reviews, showcasing the Dubai Evening Desert Safari as a 5-star experience. These reviews provide valuable insight into the highlights of the desert safari, allowing potential travelers to make informed decisions.
The desert safari is known for its exhilarating activities such as dune bashing and sandboarding, providing an adrenaline rush for adventure seekers. Plus, camel rides, henna tattoo art, and other cultural experiences are offered, giving visitors a taste of traditional Arabian culture.
The evening culminates with a delicious buffet barbecue dinner accompanied by live music and dancing, creating a memorable and enjoyable atmosphere. With its affordable pricing and value for money, the Dubai Evening Desert Safari is a highly recommended experience for travelers looking to enjoy the beauty and excitement of the desert.
Frequently Asked Questions
What Is the Minimum Age Requirement for Participating in the Dubai Evening Desert Safari With BBQ Dinner?
The minimum age requirement for participating in the evening desert safari with BBQ dinner is determined by the safety guidelines in place. These guidelines ensure the safety and well-being of all participants during the experience.
Are There Any Restrictions or Limitations for Pregnant Women During the Desert Activities?
Safety precautions for pregnant women during desert activities include avoiding dune bashing and other high-intensity activities. It is advisable for pregnant women to consult with their healthcare provider before participating in any activities during their trip.
Is There a Dress Code for the Safari and Dinner Experience?
There is a dress code for the safari and dinner experience. Guests are recommended to wear comfortable, loose-fitting clothing and suitable footwear for the desert activities.
Can I Bring My Own Food or Drinks to the BBQ Dinner?
No, outside food and drinks are not allowed at the BBQ dinner. There may be alcohol restrictions, so it's best to check with the tour operator beforehand.
Is There a Maximum Number of Participants Allowed per Safari Tour?
The maximum number of participants allowed per safari tour is not specified. However, the duration of the Dubai evening desert safari is typically around 6 hours, providing ample time for all activities and the BBQ dinner.
The Sum Up
To sum it up, the Dubai Evening Desert Safari with BBQ Dinner 2023 offers an exhilarating and unforgettable adventure, packed with exciting activities and entertainment. With a 4WD ride over majestic sand dunes, thrilling desert activities, and a delicious BBQ dinner under the stars, this safari provides incredible value for money. The flexible cancellation policy and positive reviews from previous travelers make it a reliable and highly recommended choice for those seeking an immersive desert experience in Dubai.
Other Great Tours & Activities
Looking for more thrilling experiences in Dubai? Check out these other amazing tour options:
These are just a few of the many incredible tours and activities available in Dubai. Whether you're seeking adrenaline-pumping adventures or cultural experiences, Dubai has something to offer for everyone.