The Desert Safari (Premium Luxury VIP) package offers travelers an unparalleled experience in the mesmerizing Lahab Desert. With exhilarating activities like dune bashing and camel rides, guests are sure to be captivated by the sandy dunes.
The package also includes a delectable BBQ dinner with an open buffet, featuring both Arabic and international cuisine. Traditional performances, such as the Tanoura dance and a fire show, add to the evening's enchantment.
This premium desert safari promises luxury, excitement, and unforgettable memories.
Key Takeaways
Luxurious desert safari experience in the red Lahab Desert
Exquisite buffet dinner of Arabic food and international cuisine
Traditional Tanoura dance and fire show under the stars
Cancellation policy includes full refund if canceled up to 24 hours in advance and alternative date or full refund offered if weather-dependent
The Ultimate Desert Safari Experience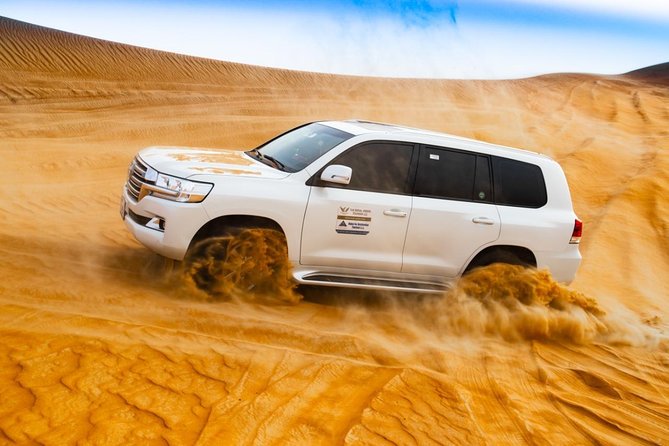 The Ultimate Desert Safari Experience offers a wide range of activities, including dune bashing, camel riding, and a delicious buffet dinner.
If you're planning a visit to the Lahab Desert, the best time to go is during the cooler months of October to April, when temperatures are more comfortable for outdoor activities.
To prepare for a desert safari, it's recommended to wear light and breathable clothing, as well as comfortable shoes. Don't forget to bring sunscreen, a hat, and sunglasses to protect yourself from the sun.
It's also important to stay hydrated, so make sure to bring plenty of water. Lastly, be sure to bring your camera to capture the stunning desert landscapes and memorable moments during your safari adventure.
Indulge in 5-star Luxury and VIP Treatment
Indulging in 5-star luxury and receiving VIP treatment, visitors can enjoy a memorable and extravagant desert safari experience. With VIP service and exclusive treatment, guests are treated to a range of luxurious amenities and activities.
From dune bashing and sunset watching to a short camel ride and henna painting, every moment is designed to create a truly unforgettable experience. The evening continues with an exquisite buffet dinner of Arabic food and international cuisine, followed by traditional Tanoura dance and fire shows under the stars.
Visitors can expect nothing less than the highest level of service and attention to detail, ensuring that their desert safari is truly exceptional. Whether it's the personalized service, the stunning desert landscape, or the incredible entertainment, this VIP desert safari is the epitome of luxury and indulgence.
Live BBQ Dinner With Open Buffet Tables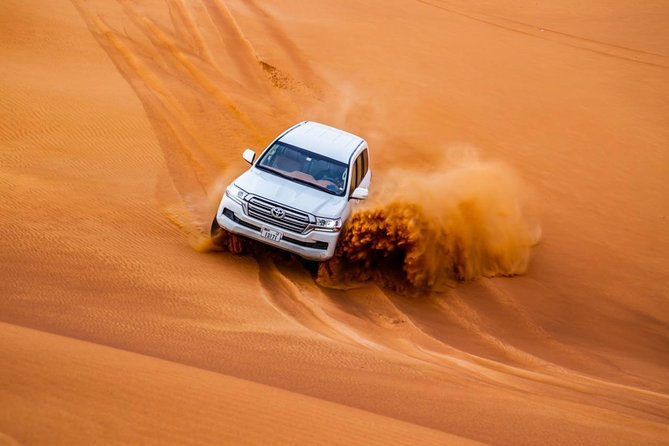 Occasionally, guests can savor a live BBQ dinner with open buffet tables during their desert safari experience in the Lahab Desert. This dining experience offers a gourmet cuisine spread that combines Arabic flavors with international dishes.
The open buffet tables provide a wide variety of options, catering to different tastes and preferences. Theres some good delicious grilled meats, flavorful kebabs, aromatic rice dishes, and a selection of salads and desserts.
The live BBQ dinner adds an element of excitement and entertainment to the desert safari, allowing guests to enjoy a sumptuous meal in a unique setting.
Whether it's a romantic dinner under the stars or a group gathering, the desert safari dining experience provides a memorable culinary journey in the heart of the Lahab Desert.
Unforgettable Adventure in the Lahab Desert
Guests can embark on a thrilling and unforgettable adventure in the Lahab Desert, experiencing the exhilaration of dune bashing and the mesmerizing beauty of the sunset.
This premium desert safari offers an immersive experience that combines adrenaline-pumping activities with breathtaking natural sights.
After a thrilling dune bashing session, guests can unwind and marvel at the stunning sunset over the desert landscape.
As part of the experience, guests also have the opportunity to indulge in henna painting, a traditional form of body art that adds to the cultural richness of the journey.
Whether it's capturing the perfect sunset photo or immersing oneself in the intricate designs of henna painting, this adventure promises to create lasting memories in the heart of the Lahab Desert.
Relax and Dine in Comfort With Premium Chairs
Visitors can truly savor their meal and unwind in utmost comfort with the premium chairs provided. These chairs offer a range of benefits that enhance the dining experience. Here are four reasons why these premium chairs are a great addition to any dining setting:
Comfort: The premium chairs are designed with superior cushioning and ergonomic support, ensuring that diners can sit for extended periods without discomfort.

Style: These chairs aren't only comfortable but also visually appealing. They come in a variety of elegant designs and finishes, adding a touch of sophistication to any dining space.

Durability: Made from high-quality materials, these chairs are built to last. They're sturdy and resistant to wear and tear, making them suitable for both indoor and outdoor use.

Versatility: Along With providing comfort and style, premium chairs offer the flexibility to be used in various dining settings. Whether it's a formal restaurant, a casual cafe, or even a backyard barbecue, these chairs can adapt to any environment.
With these premium chairs, diners can enjoy their meal in luxury and relaxation. And for those looking for alternative dining options, these chairs provide a comfortable and stylish seating solution.
Frequently Asked Questions
What Is the Maximum Number of Travelers Allowed on the Desert Safari Tour?
The maximum number of travelers allowed on the desert safari tour is 108. This luxurious experience offers dune bashing, camel rides, a buffet dinner, and live entertainment, making it a popular choice for those seeking adventure and relaxation.
What Is the Cancellation Policy for the Desert Safari Tour?
The desert safari tour's cancellation policy allows for a full refund if canceled 24 hours in advance. No refund is given if canceled within 24 hours. Changes are not accepted within 24 hours. Weather-dependent, alternative date or full refund offered.
Are There Any Alternative Dates Offered if the Tour Is Canceled Due to Weather Conditions?
Yes, alternative dates are offered if the tour is canceled due to weather conditions. Customers can choose to reschedule or receive a full refund based on the availability and their preferences.
Can Changes Be Made to the Tour Itinerary Less Than 24 Hours Before the Start Time?
Last minute modifications to the tour itinerary are not accepted less than 24 hours before the start time. Changes can only be made up to 24 hours in advance.
Are Henna Painting and Camel Rides Included in the Desert Safari Tour?
Henna painting and camel rides are included in the desert safari activities. Guests can enjoy getting their hands adorned with beautiful henna designs and experience a short camel ride during the tour.
The Sum Up
To sum it up, the Desert Safari (Premium Luxury VIP) 5* Live BBQ Dinner Open Buffet Tables Chair package offers a truly exceptional and unforgettable experience in the Lahab Desert. From thrilling activities like dune bashing and camel riding to indulging in a delicious buffet dinner, guests are treated to the utmost luxury and VIP treatment. With traditional performances and stunning views of the sunset and starry night sky, this premium desert safari promises an adventure of a lifetime.
Other Great Tours & Activities
If you're looking for more exciting tours and activities in Dubai, there are plenty of options to choose from. Here are a few recommendations:
These are just a few examples of the many exciting tours and activities available in Dubai. Whether you're interested in cultural attractions, adventure sports, or family-friendly experiences, Dubai has a lot to offer.