The Abu Dhabi City Tour, including a guided tour of Ferrari World, offers an exciting adventure for visitors from Dubai. This tour allows them to enjoy Abu Dhabi's rich culture and heritage, while also experiencing the thrill of Ferrari World, a renowned theme park.
With highlights like the majestic Sheikh Zayed Mosque and a chance to learn about Bedouin life, this tour guarantees a hassle-free and informative experience. Hotel pickup and drop-off, along with refreshments, are included, making it perfect for families and first-time visitors.
Key Takeaways
The Abu Dhabi City Tour includes visits to popular attractions such as Sheikh Zayed Mosque and Emirates Palace.
The tour also includes a visit to the world-famous Ferrari World theme park.
Pickup and drop-off at hotels, ports, and airports in Dubai are included in the tour.
The tour is highly recommended for families and first-time visitors to Abu Dhabi.
Exploring the Cultural Gems of Abu Dhabi
Visitors on the Abu Dhabi City Tour can explore the cultural gems of the city, immersing themselves in the rich heritage and traditions that Abu Dhabi has to offer.
One of the highlights of the tour is the opportunity to sample the local cuisine. Abu Dhabi is known for its diverse culinary scene, offering a wide range of traditional dishes that reflect the region's history and influences. From aromatic spices to succulent meats, visitors can indulge in the flavors of the city and experience the authentic taste of Abu Dhabi.
Along With the local cuisine, the tour also provides an opportunity to learn about traditional crafts. Abu Dhabi is home to skilled artisans who specialize in creating beautiful handicrafts, such as pottery, weaving, and calligraphy. Visitors can witness these crafts being made firsthand and even try their hand at creating their own unique piece of art.
The combination of local cuisine and traditional crafts offers a glimpse into the rich cultural heritage of Abu Dhabi.
The Majestic Sheikh Zayed Mosque
Located in Abu Dhabi, the Majestic Sheikh Zayed Mosque is a breathtaking architectural masterpiece, and it showcases the grandeur and beauty of Islamic design.
The Sheikh Zayed Mosque architecture is a blend of different Islamic styles, incorporating elements from Mameluke, Ottoman, and Fatimid architecture.
The mosque is adorned with intricate calligraphy, floral designs, and geometric patterns, creating a visually stunning atmosphere.
The cultural significance of Sheikh Zayed Mosque is immense. It serves as a place of worship for Muslims and a symbol of unity and peace for people of all faiths. It also promotes cultural understanding and appreciation of Islamic traditions and architecture.
Visitors can explore the mosque's stunning interiors, featuring the world's largest hand-knotted carpet and one of the biggest chandeliers. The serene courtyard and reflective pools add to the mosque's allure.
As a prominent landmark in Abu Dhabi, the Sheikh Zayed Mosque attracts millions of visitors each year, providing a glimpse into the rich cultural heritage of the United Arab Emirates.
Unleashing Thrills at Ferrari World
Ferrari World unleashes thrilling experiences for all visitors, with its high-speed roller coasters and adrenaline-pumping attractions. This iconic theme park in Abu Dhabi offers an array of exhilarating Ferrari World rides that cater to both thrill-seekers and car enthusiasts.
One of the highlights is Formula Rossa, the world's fastest roller coaster, which accelerates from 0 to 240 kilometers per hour in just 4.9 seconds. Another popular ride is Flying Aces, a thrilling roller coaster that takes riders through a series of twists, turns, and loops.
Along With the heart-pounding rides, Ferrari World also features attractions like the interactive racing simulators and the Ferrari Gallery, showcasing the history and evolution of the iconic car brand.
With its impressive lineup of Ferrari World attractions, this theme park promises an unforgettable experience for visitors of all ages.
Immersing in Bedouin Life and Heritage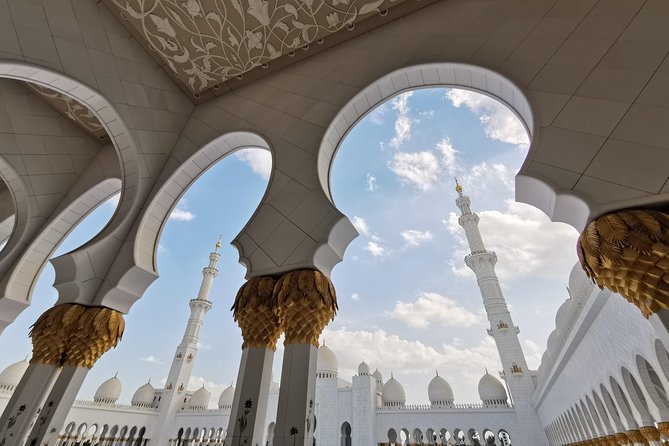 While exploring Abu Dhabi, visitors can enjoy Bedouin life and heritage, learning about the traditions and culture of this fascinating desert community.
Experience an authentic Bedouin desert camp, where visitors can participate in traditional activities such as camel riding, falconry, and henna painting.

Enjoy a Bedouin-inspired meal, featuring delicious dishes cooked over an open fire and served in a traditional setting.

Listen to captivating stories and legends from Bedouin elders, gaining insight into their rich history and way of life.
These immersive Bedouin cultural experiences provide a unique opportunity to step back in time and gain a deeper understanding of this ancient desert community.
Visitors can engage with Bedouin traditions, witness traditional crafts being made, and even try their hand at some traditional Bedouin activities. It's a truly enriching experience that allows visitors to appreciate the beauty and resilience of Bedouin culture.
Family-Friendly Fun in Abu Dhabi
Abu Dhabi offers a variety of family-friendly activities. Families visiting Abu Dhabi can explore the Sheikh Zayed Mosque and enjoy the thrilling roller coasters at Ferrari World.
Along With these attractions, families can also explore traditional markets and engage in outdoor activities. The city boasts a number of traditional markets, known as souks, where visitors can browse and shop for unique items such as spices, textiles, and local crafts.
On top of that, families can participate in outdoor activities such as dune bashing, camel riding, and desert safaris. These activities provide a chance to experience the natural beauty of the desert landscape.
With its combination of cultural landmarks and exciting outdoor adventures, Abu Dhabi offers something for everyone in the family to enjoy.
Hassle-Free Small Group Tour Experience
Visitors can enjoy a hassle-free small group tour experience with live commentary and professional guides. This allows them to fully enjoy the beauty and culture of Abu Dhabi without the stress of planning and navigating on their own.
The knowledgeable local guides provide expert insights and information, ensuring that guests make the most of their time in this vibrant city. With a small group setting, guests can interact with their guides and fellow travelers, creating a more personalized and intimate experience.
From exploring iconic landmarks like Sheikh Zayed Mosque and Emirates Palace to experiencing the excitement of Ferrari World, this tour offers unforgettable memories. The expertise of the local guides adds depth and richness to the experience, enhancing visitors' understanding and appreciation of Abu Dhabi's history and culture.
Exclusive Access to Ferrari World Theme Park
The tour offers visitors exclusive access to the Ferrari World theme park, allowing them to experience the thrill of the world-famous attractions. With this exclusivity, visitors can enjoy a VIP Ferrari World access, immersing themselves in the excitement and luxury that the park has to offer.
From exhilarating roller coasters to interactive experiences, Ferrari World provides a unique and unforgettable adventure for all ages. Visitors can test their driving skills on the karting track, explore the history of Ferrari at the museum, or simply soak up the atmosphere of this iconic brand.
The park also offers a range of dining options and entertainment shows, ensuring a complete and enjoyable experience. With its exclusivity, the tour provides an opportunity for visitors to fully enjoy the world of Ferrari and create lasting memories.
Frequently Asked Questions
What Is the Minimum Age Requirement for Visiting Ferrari World?
The minimum age requirement for visiting Ferrari World is determined by the safety regulations set by the theme park. It is important to adhere to these regulations to ensure the safety of all visitors.
Can I Bring My Own Food and Drinks to Ferrari World?
Outside food is not allowed at Ferrari World. They have a variety of dining options available inside the park. As for drinks, outside drinks are also restricted, but they provide water and soft drinks.
Is There a Dress Code for Visiting the Emirates Palace?
There are dress code requirements for visiting the Emirates Palace. Visitors should dress modestly and avoid revealing clothing. It is recommended to wear long pants or skirts and cover the shoulders.
Are There Any Additional Fees or Charges During the Abu Dhabi City Tour?
During the Abu Dhabi City Tour, there are no additional costs or hidden charges. The tour includes all fees and tickets, ensuring a hassle-free experience for visitors.
Can I Bring a Stroller or Wheelchair to the Sheikh Zayed Mosque?
Yes, visitors can bring a stroller or wheelchair to the Sheikh Zayed Mosque. The mosque is wheelchair accessible, allowing everyone to explore its beauty and grandeur. Wheelchair accessibility at Ferrari World is also available.
The Sum Up
Other Great Tours & Activities
Looking for more exciting tours and activities in Dubai? Look no further! We've curated a list of some of the best options for you to explore and enjoy during your visit to this vibrant city.
These are just a few of the many incredible tours and activities Dubai has to offer. Whether you're a thrill-seeker, history enthusiast, or simply looking for a family-friendly adventure, Dubai has a lot to offer.
Don't miss out on these exciting experiences and make the most of your time in this dynamic city.